In the days and weeks following the energy crisis caused by Winter Storm Uri a large number of legislative measures seeking to change electricity market rules were introduced in ERCOT, but added risk of volatility in the market is driving increases in forward prices more than potential rule changes. The highly publicized Senate Bill 2142 would have forced resettlement of market prices, but failed to advance in the House. Although this bill has been put to rest, there are many others still pending and an abbreviated list of proposed legislation is provided in the table below.
Price Spikes Mean Higher Rate Risk
As prices spiked to the $9000/MWh cap during Uri (first graphic), forward markets began to react (second graphic) with a nearly instantaneous jump in offerings for Calendar 2022. Steady increases in later years followed as it became clear that the risk of price spikes in Texas was not limited to summer.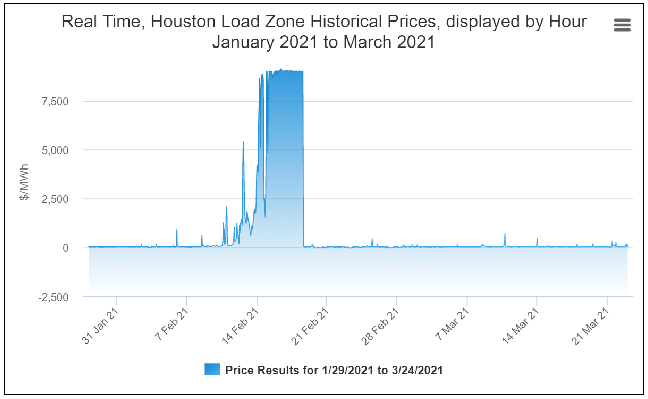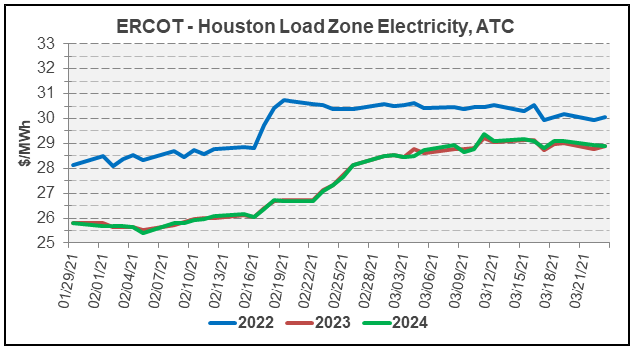 As weather across the US has warmed we have seen a retraction in near term natural gas markets, a key driver of electricity prices, which has helped ease calendar 2022 prices back slightly, but longer term contracts remain elevated.
With little prospect of a market rule change solution to mitigate price spikes, forward markets are likely to continue to include the additional risks. Previous seasonal hedging strategies that only addressed summer risk may need to be adjusted to include protection during winter as well.
Texas Legislative Actions
Dozens of bills were filed in the Texas Legislature, the majority of which have no real impact on electricity contracts, markets, or prices.