Northeast Offshore Wind Cancellations – Potential Market Impact Looming
Energy users with contracts ending in 2024 or early 2025 should consider renewal agreements soon.
As construction and financing costs rise rapidly, virtually all of the offshore wind projects in the Northeast have come under pressure, leading many to delay or cancel their construction. Recently, many wind farm developers have been trying to renegotiate their terms but were denied, putting the projects and energy markets at risk.
What happened?
Last week, energy regulators in New York denied requests from the Beacon Wind, Sunrise Wind, and Empire Wind projects. The developers of those projects had claimed that the contracts negotiated several years ago needed to account for increasing costs and would not be economically viable.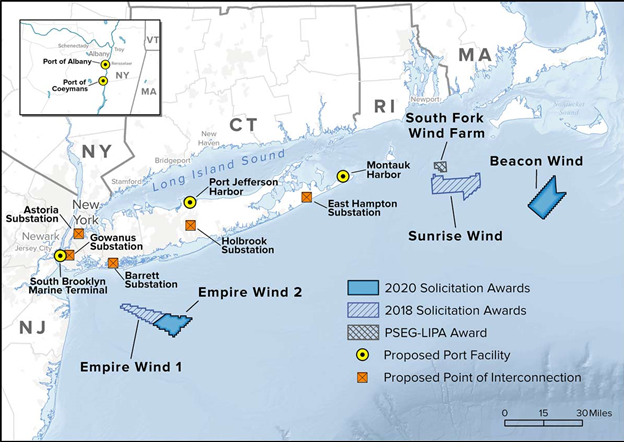 What is the risk?
The developers of the Sunrise wind project, Ørsted and Eversource, have already elected to cancel projects in Massachusetts and Connecticut after those projects became uneconomic for similar reasons. The developers are taking substantial financial write-downs and paying penalties to exit the agreements. They and the other developers may take a similar path for the New York projects. In that case, it puts downstate New York energy markets under extreme risk in the coming years.
In the next three years, the New York City electricity system faces operational restrictions or forced closure of most of its generators. The construction of new offshore wind was a pivotal component in replacing those lost sources of electricity. With the several gigawatts of electricity the projects would provide, New York City could avoid electricity supply issues during high-demand periods as soon as 2025.
What happens next?
Official reactions and announcements from the developers have yet to be released. Still, cancellations or delays could be part of them. In that case, we anticipate forward energy markets in New York to react quickly and rise precipitously.
What should you do?
Energy users with contracts ending in 2024 or early 2025 should consider proactively pricing renewal agreements as soon as possible to leverage current market offerings and avoid the risks presented by project cancellations or delays.