The Midwest Independent System Operator (MISO), who coordinates the electricity grid for many states, including Illinois and Michigan, has announced a sharp increase in capacity costs starting in June of 2022.
MISO recently conducted its annual auction to secure capacity resources to meet electricity demand requirements across its system for the June 2022 – May 2023 period. Prices starting in June are up significantly compared to current levels.
Generation retirements, especially of coal units, and projected increases in demand in the coming year combined to push most regions into a situation where there is not expected to be enough generation during extremely high demand periods and that forced load shedding may be needed.
The table below shows the prices in the most recent auction, with Michigan (zone 7) and southern Illinois (zone 4) both clearing at $236/MW-Day, nearly 50 times higher than the current price of $5/MW-Day.
Unless sizable new generation is built in many of these regions in the next 12 months, Tradition anticipates capacity prices in MISO to remain elevated beyond 2023.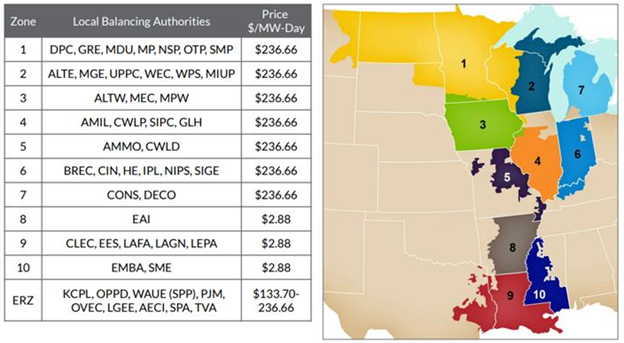 Source:  MISO